About Process Instruments
Based in Burnley, UK, Pi supplies high quality water quality analyzers including; residual chlorine, ozone, chlorine dioxide, peracetic acid, turbidity, suspended solids levels and many other water quality measurements. Since establishing in 1998, Pi has grown its operations to over fifty countries in six continents, with representatives in China, subsidiaries in France and Ireland and new manufacturing facilities in Burnley, UK.

Our work in North America is particularly important to Pi working with two great American companies who know our equipment as well as we do and who provide the best technical pre and post sales support in the world. Why not give them a call on the numbers at the top of the page?

The company is founded on a set of values that it lives by with a vision and a mission to provide the best measurement and control tools to ensure that all water users get the ideal water for them and their industrial, municipal and leisure processes.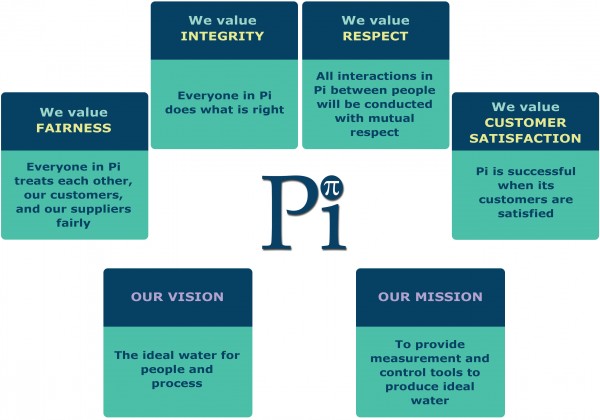 Specialisms
Here at Pi, we realize that no two applications are the same and instrument and control applications can be challenging if you don't do them every day. We develop easy to implement solutions to meet your business requirements, and along the way we have developed some applications expertise that makes us truly specialists in our field. If you have a difficult application (or even an easy one), in any of the following areas then please do get in touch and we can share our experience and our expertise.
Support
Support isn't just there for when things go wrong! It starts from the first time you contact us and tell us about your application. What might be easy and routine for us may well be challenging for you and we are there to help. From helping you select the solution you need, to making the instruments intuitive, to providing bespoke individual manuals so they only contain what is relevant to you, to providing installation guides, to being on the end of the phone or an email, Pi is there to support you. And if something should go wrong? We're there to support you then as well with warranty replacements and on site engineers.
Remote Access and Data Information
Every CRIUS®4.0 controller comes with the capability of connecting remotely to any internet enabled device. It does this using the MQTT Internet of Things communications protocol, the first analyzer in the world to do so. This gives full, live remote access to the analyzer, the data and the setup.

Additionally in Jan 2021, Pi launched a cloud based Data Acquisition Reporting and Storage application called Data Insite® capable of live streaming data from CRIUS®4.0 and any other internet capable device.
Private Labelling
Pi is known to make the best water quality analyzers on the market – so it's not surprising that other companies want to sell them as their own under Private Label agreements. As well as the original design and manufacture, Pi provides all the training that their customers need. Our Private Label customers save a fortune on Research & Development by selling our products under their own branding, and so could you. We even do custom programming to enable the analyzers to perform specialist control based on our private label customers' requirements. From controlling ozone generators to managing monochloramine generators to controlling a chlorine dioxide generator, Pi has done it all before so ask us about your specialist requirements.
Research and Development
The many innovations brought to market by Pi, such as the patented turbidity meter "TurbSense®" and the patented suspended solids monitor "SoliSense®" are the result of years of working together with prestigious educational institutions such as The University of Manchester, The University of Lancaster and The University of Warwick. This continual product development has led to Pi being awarded numerous honors over the years, including the International Achievement and Editor's Choice Award at the Red Rose Awards, the Technology Award at the Lancashire Telegraph Business Awards, and the Innovation Award at the Burnley Business Awards. In 2021, Pi was awarded two Queen's Awards for Enterprise; for Innovation (for the CRIUS®) and for International Trade.

More importantly, it has meant that Pi can add value to our customers' processes and products by developing products that really satisfy a need. Recent examples include CRIUS®4.0, the world's first MQTT enabled instrument controller, and CoagSense, a fully automatic coagulation controller for any size of municipal water treatment plant.

With the exception of 2020, Pi has attained growth of more than 20% year-on-year since the launch of its products and continues to heavily invest in Research & Development. So you can always rely on us to deliver the most technologically advanced water analyzer and controller systems on the market.
What the future holds for Pi...
Ever-expanding, ever-adapting, ever-enhancing. With numerous ongoing product developments constantly underway, it's a safe bet that Pi will always be at the top of the water quality analyzing industry.
If you would like to learn more about Pi, our products and how they can help your business, pick up the phone and give us a call.
Roger Heise, Chairman of Process Instruments:
"2020 and 2021 were horrible years for nearly everyone. I am enormously proud that by working tirelessly with our customers, focusing on what's important and by looking after each other Pi has come through it stronger than ever. The team at Pi is looking forward to continuing to work closely with its customers for everyone's success in 2022."
"If you can think of ways that we may be able to help you then please e-mail me direct at roger.heise@processinstruments.net. To get a closer look at what we might be able to do for you, please visit our product pages."